Our Staff
We offer the best Scuba Diving Classes in the Inland Empire of Southern California. Our staff is trained to teach Scuba Diving, First Aid, CPR and much more.


James McMullin
Owner and CEO, Signature Scuba Diving
PADI Master Instructor #236041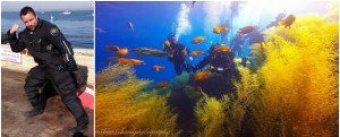 Diving Since: I prefer to be mysterious in this category.
What set the hook? Growing up near the water and watching divers in and out, I wished it was me out there. Then watching documentaries on SCUBA diving, I wanted to try it out. Snorkeling was great and I was hooked, but being able to breathe below the surface was the way to go. I couldn't wait to get certified and really dive. In a world where life has a tendency to build stress, I found scuba diving to be the solution of relief. Taking in the natural environment in all its glory soothes the soul and replenishes our thirst for life. SCUBA diving is an amazing experience where you can browse through the rocky coral reefs and watch the sea's creatures blend into their surroundings. It makes them look like part of the scenery in a fantasy world rather than living creatures and each dive is a different experience. Who knew there could be so many adventures so close to home???
I quickly made the decision to become an instructor to share these experiences with anyone willing to take the opportunity and lighten up their lives, one dive at a time.
Certifications: Instructor Ratings:PADI Master Instructor, Emergency First Response Instructor, Tec Instructor, Sidemount & Rebreather Instructor, and various specialties.
Goals: Since I began teaching, the world became my oyster. Or… I seemed to find oysters throughout the world. Whichever makes more sense?! From the clear reefs of Cozumel, the aquatic life of Bonaire, the mysteries of Papua New Guinea or the classroom swimming pool, my life changed when I began diving. The adventures continue with every student and new dive site experience. My only goal is that you meet our Signature Staff, enjoy quality training, and make new memories with us.
Fans can follow James on Twitter at https://twitter.com/SignatureScuba and on Facebook at http://www.facebook.com/pages/Signature-Scuba/177545445694447.
Paul Dubé
PADI Master Instructor #172293

Diving Since: 1994
What set the hook? For as long as I can remember I've always felt a connection with the ocean. For me SCUBA seemed like a natural progression from spending hours on the surface surfing and boogie boarding to diving and exploring our underwater world. Like no two waves are ever exactly the same, no two dives, even at the same site are ever exactly the same. After I took my first breath underwater I knew right then and there that this was what I wanted to do.
Certifications: PADI Master Instructor, NAUI Master Diver, Instructor Ratings: Peak Performance Buoyancy, U/W Navigation, Night, Deep, Wreck, Dry Suit, Search and Recovery, Enriched Air (Nitrox), Drift, Diver Propulsion Vehicle (DPV), Altitude, Project AWARE, Fish I.D., Boat, AWARE Coral Reef Conservation, Emergency First Responder and Care for Children w/AED
Goals: My primary goal, above all, is to develop SAFE divers. Divers that are independent and not dependent on others make the safest buddy teams. It's easy to get and stay excited about something that you are passionate about. This sport may be slow and most of the time effortless when you are underwater, but it is never boring. Whether you are drift diving off Cozumel or visiting the Jacques Cousteau Monument at Avalon's underwater dive park, it's an ever-changing adventure that I look forward to sharing with everyone I meet. With over 7500 dives and over 5500 hours underwater, The Adventure continues......
Mike Cory
PADI IDC Staff Instructor #57152

Diving Since: 1988
What set the hook? Jacques Cousteau, I remember as a kid watching him on TV. The passion he had for the aquatic environment fascinated me. Once I became a diver, I quickly realized I was addicted to diving. I can't think of any activity that will allow you to visit a place where you can travel back in time (wreck diving). When diving, there's no phones, there's just you and the aquatic environment.
Certifications: PADI Staff Instructor #57152, Emergency First Response Instructor (EFR), Peak Performance Buoyancy Instructor, Project AWARE Instructor, AWARE Coral Reef Conservation Instructor, Deep Instructor, Dry Suit Instructor, Emergency Oxygen Provider Instructor, Enriched Air Instructor, Wreck Instructor, TecRec Trimix Blender Instructor, Boat Instructor, Drift Instructor, Equipment Specialist Instructor, Night Diver Instructor, Underwater Navigator Instructor, Search & Recovery Instructor, Underwater Photographer Instructor, Multilevel Diver Instructor, Fish Identification Instructor, Digital Underwater Photographer Instructor, Altitude Instructor.
Goals: PADI Master Instructor. My goal is to teach scuba diving to anyone who is willing to take the plunge in adventure. Scuba diving is not for everyone, but for those who are looking for adventure of the unknown, scuba diving is for you. To be able to visit a place underwater, where you can see hard and soft corals of every color, spectacular untouched wrecks trapped in time, is something that relatively few people can imagine. All of us divers have a little pirate in us, looking for that buried treasure. So come join us and who knows, you just might that treasure after all.


Jeremy Duane Farmer (JD)
PADI IDC Staff Instructor #341236
Emergency First Response Instructor Trainer
Handicap Scuba Association Instructor #3756
Diving Since: 2012
What set the hook? I was snorkeling in Hawaii with the manta rays and saw divers below us at the site we were at. I figured I would like to give it a try. I went to the local dive shop and inquired within and signed up. After that first breath at depth, I was hooked
Certifications: Master Scuba Diver, Advance Rebreather, Tec sidemount, Tec 40, Public Safety Diver, PSD Surface Support, Dive Against Debris, Tec Rec Trimix Blender, Aware Shark Conservation, Equipment Specialist, along with many more that I can teach
Goals: At first I only wanted to be a master scuba diver, 4 years down the road, I found that I really enjoyed the diving community. I became an Instructor to share the passion that I have for diving, there are plenty of locations that haven't been explored by none divers, so follow me and we can get our feet wet.
Steve Cockrell (Scuba Steve)
PADI Master Scuba Diver Trainer #191632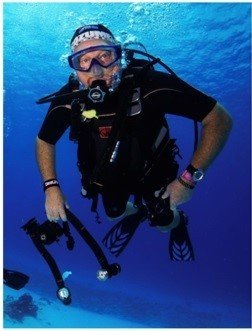 Diving Since: 1992
What set the hook? I got hooked on scuba diving after a trip to Cancun. I was snorkeling and saw divers on the bottom and knew I needed to be there. I cam back and immediately got certified. My buddy and I spent many years experiencing all types of diving including deep, wreck, night, photo, hunting, fresh water, beach, boat and warm waters. I have had surreal experiences diving the warm waters of the Florida Keys to Cozumel to Hawaii. But I love our world class diving here in Southern California. I decided to "Go Pro" and get my instructor rating and have loved every minute of it.
Certifications: PADI Master Scuba Diver Trainer (MSDT), PADI Dive Travel Specialist
Goals: I teach scuba diving because I love it. I love to teach and I love the sport so being an instructor has been a perfect match. I especially enjoy sharing the wonders of the underwater world with new students teaching Open Water Diver and Advance Open Water. Over the years, I have been fortunate to meet many fellow adventurers who share my passion and have joined me on my group dive trips. I would like nothing more than to continue teaching scuba and lead dive trips to exotic destination around the world. After working for another dive shop the last 12 years that went out of business, I am honored to be able to continue teaching with Signature Scuba.


Jennifer
PADI Divemaster #341313
Diving Since: 2012
What set the hook? Definitely James McMullin was the reason I got into scuba diving and is the reason I became a DM. When James opened Signature Scuba I joined his first class. I have been diving alongside James and his students ever since. I love seeing students love for scuba grow and helping students become better divers. Each dive is a new experience no matter where I am or who I'm with.
Certifications: PADI Divemaster, Rescue Diver, Master Scuba Diver, Emergency Oxygen Provider, CPR/AED/First Aid, Deep Diver, Dry Suit Diver, Enriched Air Diver, Aware Shark Conservation Diver, Coral Reef Conservation, and Project Aware.
Goals: Continue on this journey called life with James and Signature Scuba. I am always learning and I hope to continue learning for the rest of my life. Along the way I would like to be able to capture some beautiful pictures of my travels both in and out of the water.


JV
PADI Open Water Scuba Instructor #329965

Diving Since: 2008
What set the hook? The feeling of weightlessness (neutral buoyancy and horizontal trim) and being surrounded by the beautiful sea creatures.
Certifications: PADI Open Water Scuba Instructor, GUE Fundamentals
Goals: Spread the love of scuba throughout the world.


Sergio Cordova (Surge)
PADI Divemaster #367789

Diving Since: 2011
What set the hook? I was first exposed to the world of scuba on Coconut Island in Thailand. This was a routine Navy port call to Phuket where the adventures were readily available and cheap so I took advantage of the PADI Discover Scuba option. After a 30-minute session of breathing underwater and being surrounded by hundreds of tropical fish varying in shapes and colors, I knew I was meant to explore more than just the ocean's surface. I needed to become a diver!
Certifications: PADI Divemaster, Emergency First Responder, Master Scuba Diver, Enriched Air Nitrox, Search & Recovery, Diver Propulsion Vehicle, Wreck, Deep, and Recreational Sidemount Diver
Goals: We spread marine safety and awareness. As for our customers, they are well-trained, grateful, and experience what very few dare to explore in their lifetime. My goals are move upward to the instructor level, upgrade to technical diving, and survey underwater caves. To take the knowledge of the world beneath the surface and share it with others is both my honor and privilege. I promise you will never look at a body of water the same again. Come dive with us!


Daniel Jordan (Hedgehog)

Diving Since: 1994
What set the hook? I was introduced to scuba when I was twelve years old. The first time I donned scuba equipment I was hooked and destined for a life below the surface. As I started to progress my knowledge in scuba by taking many different courses working my way up to NAUI master diver by the time I was 18 years old. After high school, I started working for local dive shop working my way up to Divemaster and eventually Open Water Instructor. During my time as shop manager I became an Advanced Open Water Instructor and Complete Nitrox Instructor. My passion for diving has always been the concept that very few people on this earth get to enjoy what the ocean truly has to offer beneath the surface. As the diving industry continues to grow, new technology always feeds us to dive deeper, safer, and longer than ever before.
Certifications: SSI AOWI 10363 and ANDI CSUI, SSI: Advance Open Water Instructor ANDI: Complete SafeAir/Nitrox Instructor, Gas Blender, Oxygen Provider, Rebreather Diver level 2, and Technical SafeAir Diver, NAUI Tech: HeliAir diver
Goals: My personal goals as a diver are to continue to expand my knowledge and education in the diving field and to pass on my knowledge to anyone who is willing to become a better diver in the future.


Glenn Kerr
Rescue Diver/Shop Manager

Diving Since: 2014
What set the hook? Growing up in Orange County I spent all my spare time in the water. I was body surfing the wedge and surfing in Newport. My love for the ocean I owe to my mother. When James opened Signature Scuba in 2012 I had never thought about diving up until that point. However as I was learning about scuba gear and helping run the shop my interest in learning how to dive grew. Watching so many students come through the shop, they all would ask when I was going to dive. We set a goal for me. The goal was to get healthier. Then we started my journey. Once I finished my Open Water certification in Catalina I was HOOKED. Now I love diving and look forward to continuing my education.
Certifications: Advanced Open Water Diver, Peak Performance Buoyancy Diver, Enriched Air (Nitrox) Diver, Drysuit Diver, Equipment Specialist, Project AWARE, AWARE Coral Reef Conservation, Emergency First Responder and Emergency O2 Provider.
Goals: My primary goal, is to continue my scuba education. Making sure Signature Scuba continues to provide the best service and training in the industry. Who knows one day I may be teaching others how to scuba dive.


"Dive For Fun"
"Dive For Life"
Signature Scuba
¸¸.·´¯`·.¸><(((º>
`·.¸¸.·´¯`·.¸><(((º>