The PADI Underwater Navigator Course
Be the diver everyone wants to follow and make your sense of direction legendary with the PADI Underwater Navigator Specialty course.
Students are required to have their own personal equipment: mask, fins, boots, gloves, snorkel and dive bag and a timing device. Students get special pricing from our store.
Rental of primary scuba gear (wet suit, regulator, BCD, weights, tank) is $49.95 for the two (2) days training (Regular Price 59.00 per day).
3 Open Water Dives
You will need to sign a Medical Certification Statement (download here)
The Fun Part
Finding your way is not a matter of luck! When everyone's buzzing about a reef or checking out a shipwreck, they're having a great time – until it's time to go. Then they turn to you, because as a PADI Underwater Navigator, you know the way back to the boat.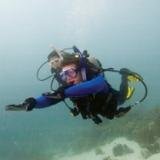 GetCollegeCredit
You may be able to earn college credit for the PADI Underwater Navigator Course.
What You Learn
Underwater navigation can be challenging, but in the PADI Underwater Navigator Specialty course, you master the challenge. You learn the tools of the trade, including navigation via natural clues and by compass.
You learn
Navigation patterns
Natural navigation (without a compass)
Compass navigation
How to "mark" or relocate a submerged object or position from the surface
Underwater map making
How to follow irregular courses with the Nav-Finder
Dive site relocation
How to estimate distance underwater
To purchase learning materials and equipment, contact Signature Scuba at 909-476-8183